Tampa Bay Salvage
For over two decades Tampa Bay Salvage has been your one-stop-shop for your custom furniture and metal fabrication needs providing quality craftsmanship for both commercial and residential clients. You'll always find something cool in our ever-changing inventory — from a 737 engine cowling to vintage 60's neon signs and tons of "funky finds" in between! We are considered an "area attraction" to our customers from all over the US, Canada and abroad. You never know WHAT you're going to find!
We are Procurers of the Unusual
When you visit our Tarpon Spring architectural antique shop you will find anything from vintage pinball machines to English telephone booths to salvaged cannons, and airplane parts to salvaged nautical treasures. Our inventory changes quickly so we recommend coming in often to find that perfect piece for your home or office. You probably didn't even know that you wanted something until you see it in our store! Have fun exploring this exotic place for decorating ideas and taking in the sea of treasures from all over the globe. Bring your imagination and plan on spending some time as you meander aimlessly throughout our store.
Treasures from All Over the World
We personally travel the globe and pick cool and unique treasures to bring back to our Tarpon Spring store for our loyal clients to cherish and enjoy. We import containers from India, Indonesia, Europe, Egypt, and Mexico to our store at least six times a year.
We custom fabricate one-of-a-kind solid wood live edge tables that will add warmth and a sense of timelessness to any room or home. Rare woods ranging from single element slabs to centuries-old reclaimed wood are found throughout our Florida warehouse.
Don't know anything about live edge tables or exotic wood? Don't worry -because our experienced staff guides you through the selection process every step of the way. After finding the perfect slab/lumber our skilled artisans will create your dream piece in our on-site custom woodworking shop.
A live edge table is made by first selecting quality environmentally friendly and sustainable logs. Second we custom saw the logs length-wise for "slabs" and vertically for "rounds". The term live-edge refers to the free form nature of the tree - we do not square the edges for dimensional lumber. We keep the character of the tree in its natural form. Lastly we professionally kiln dry our lumber to 8% to ensure a lasting product that will not crack, split or warp. Quality you can trust. Nature does the hard part then our skilled team of carpenters run with the ball. With our 50" wide Woodmaster double drum sander we can machine flatten each slab for professional results.
Exotic Wood Slabs
We are a direct importer of exotic live edge wood slabs and always have a variety of reclaimed wood available as well. Barn siding, beams and reclaimed timbers for mantels are available and the inventory is always changing. You will be amazed! Come in and check out nature's work's of art….. Wholesalers take advantage of these slabs for your custom work - buy in bulk and save.
We are an architectural salvage company that scours the globe to locate architectural antiques and rare finds. We specialize in the demolition and sales of historic house parts, nautical antiques, industrial, vintage, mid-century, and much, much more. We offer woodworking and welding fabrication services for all of your custom needs with a wide selection of reclaimed lumber and exotic wood slabs at our disposal. Seek the unique and build with us. We look forward to meeting you! You can read more about our global journey for antiques by reading our Join Our Journey Blog.
Unique + Antiques = Uniquities
We made this one up! We offer unique antiques, so the word Uniquities came to mind and became part of our vocabulary. It just fell into place. You'll hear us say it around the store. You may even see the word mentioned in our marketing. Just remember Unique + Antiques = Uniquities. That's us!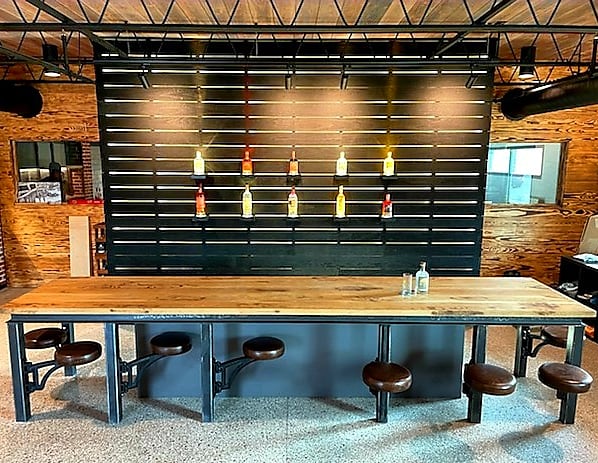 Welding and Fabrication Services Available
Tampa Bay Salvage offers full service welding and fabrication services. Our licensed carpenters and welders build each and every custom piece with the finest materials available. You can select one of our live edge wood slabs and our team can custom make a table, furniture, or whatever your heart desires. Metal fabrication is in our blood - custom steel table bases are our specialty- if you can dream it, we can build it!
Wholesale Service
We love to work with fellow small businesses, woodworkers, designers, and artists with our wholesale services. Due to our high sales volume and factory direct purchasing, we can offer you and your company the best available products at great prices. Tampa Bay Salvage has well-established relationships around the world so we can offer our clients a wide variety of unique items and materials at the best prices. We travel the world for the coolest finds and home decor items….We do the leg work for you so you don't have to! 
To qualify as a wholesale account, you must provide a valid Tax ID number and meet our minimum purchasing requirements. If you are interested in learning about wholesale services and pricing, drop us a message or give us a call.
Check Out Our Latest Blog Posts